Konnichiwa Minasan! Hope you are all having a great day. Today, we at Otaku Village decided to share with you guys something different. We all love anime/manga and for those of us taking a trip to the Land Of The Sun, how much do we really know about the spots that promote the culture of manga, anime and the spirit of otaku and the japanese animation industry? Let's cut to the chase then, shall we? We will be listing a couple of spots which you can use as sort of landmarks/spots you can check out, just in case you are dropping by and if you do happen to pass by, feel free to take a couple of pictures too (and definitely share them with us, if you feel like it ;) )
Tokyo Tower And Tokyo Skytree
333 metres tall, it stands about 2 meters taller than the Eiffel Tower and is the second tallest structure in Japan. The Tokyo tower has 3 observatory decks, from where you can get a nice cityscape view in the mornings or when it's a bit less crowded. The tallest structure in Japan is the Tokyo Skytree, located in Sumida and it's a broadcasting station too. This one's too, has got observatory decks and also, has tons of restaurants. Lovely view!
Fun fact:
Why do we think the Tokyo Tower and Tokyo Skytree are two hot spots worth checking out? It's because they get mentioned in anime a lot.
Haikyuu!!
for instance, the sports anime. [gallery ids="722,721,720" type="circle"] [caption id="attachment_723" align="alignnone" width="1200"]
Tokyo Skytree Bridge[/caption]
Ghibli Musuem @ Mitaka, Tokyo
If you've ever watched acclaimed titles from this anime production powerhouse such as Princess Momonosuke, My Neighbor Totoro and Howl's Moving Castle, then be sure to drop by this museum. You'll find lifelike figures of your favourite anime characters, posters, sketches and beautiful gallery artwork (traditional/digital) put on display
Mandarake
If you love figurines/collectibles, you should definitely check out this place which spans over 8 floors. They've got literally everything anime/manga merchandise related from collectibles, figurines, key chains, wallets and various other goodies. Best part, you can get them cheap. They even sell manga comics and anime magazines and you will often find people playing card games and chilling out. Mandarake outlets are located at Akihabara, Shibuya, Osaka, Nakano and Fukuoka.
Commit - Nakano Broadway 4F, room 467, Nakano-ku @ Akihabara
Akihabara is the paradise for all otaku. And there's a cool spot here which sells Genga and key animation cels for cheap rates here. In the Nakano Broadway, you can find leaked cels of classic anime series and even some of the mainstream anime. Some are sold officially too but the key frame sheets/cels by Hayao Miyazaki are sold at gallery prices which are fiendishly expensive. Overseeing that, if you do consider similar quality artworks/frames by less renown artists and consider buying them, then you can get them really cheap. What can you do with Genga you might ask? Put em' up for display at your home or if you're a visual artist, you can learn something by studying them. Gengas are a wonderful source for checking out the workflow of key animators.
Here's a sample Genga of Shingeki No Kyojin:
Animate @ Ikebukuro, Japan
Probably one of the world's largest stores for anime and manga related merchandise in Japan, this store mostly caters to female fans of the medium of entertainment.  There are multiple floors and each floor is stocked with merchandise. You can find drawing tools and mediums here, doujinshi made by amateur and upcoming artists, even special events are exhibited here by cosplay groups such as CURE.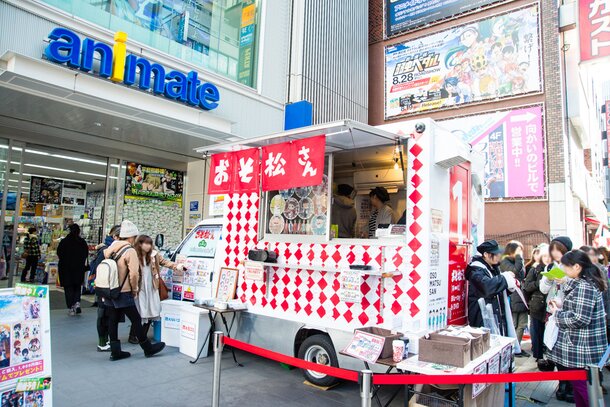 And that wraps it up for today, for now, these are definitely a couple spots you should check out on your first trip to Japan. Have fun! :)
Leave a comment